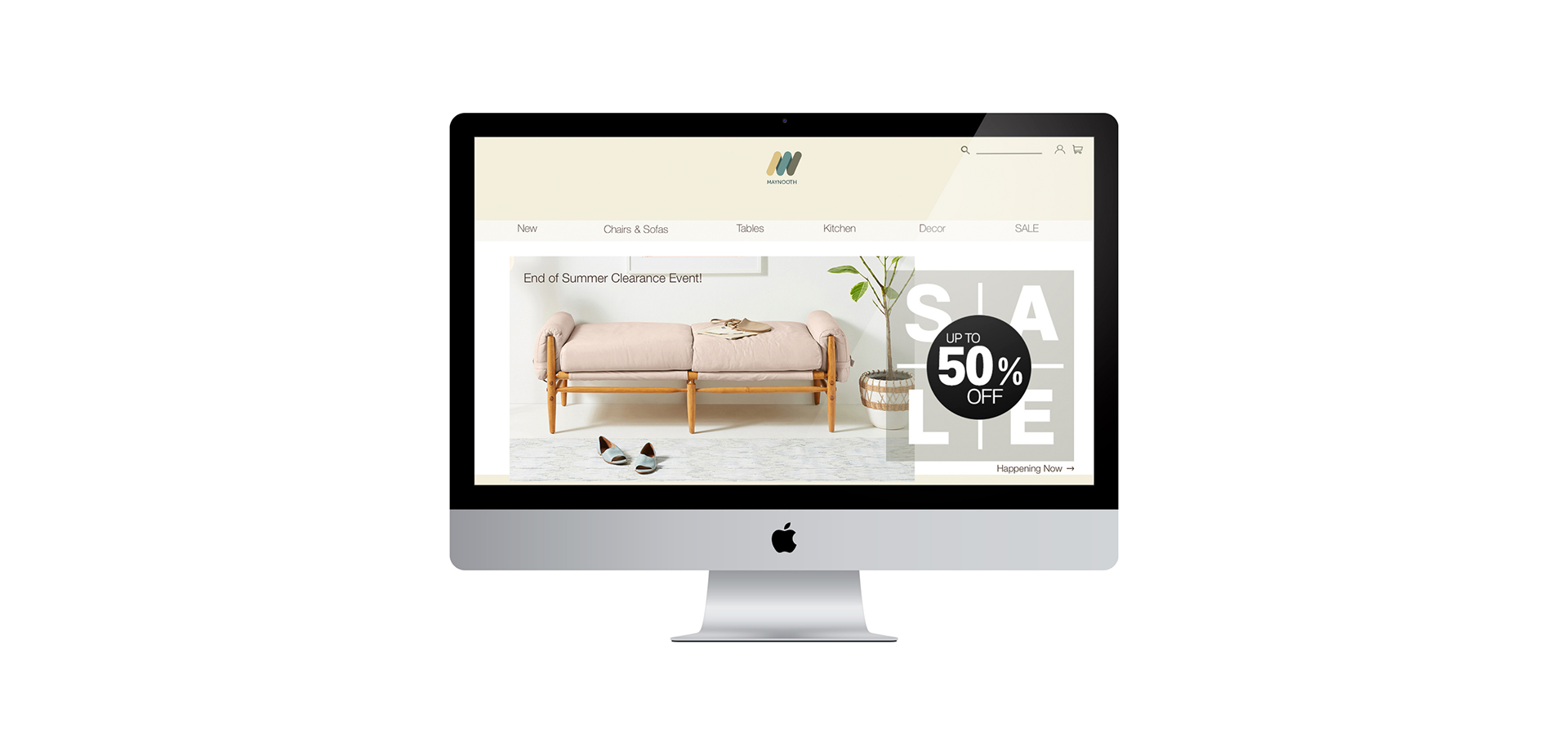 In this theoretical project, my role was to create a digital solution to improve the online experience for users in search of affordable, eco-friendly furnishings for their home.
Maynooth is a new furniture brand on the market looking to make a strong impression against several prominent competitors. Maynooth focuses on the quality, affordability and sustainability of their products while ensuring an effective approach to an eco-friendly lifestyle. Because Maynooth is a new brand on the market, they are unsure of the approach their website should take.
As a part of my role in this project, I examined the constraints and explored the options to make the website successful for both Maynooth and the user.
After conducting a competitor audit of prominent brands in the industry I was able to collect several reoccurring themes which helped me to develop an indication of successful user flow.
-Reoccurring themes include:
-Noticeable category CTA's
-Resource for inspiration
-Noticeable social media icons
My design process for this project is started by observing and analyzing two components that Maynooth's competitors exhibit on their websites. The first, their competitive aspiration; ways they compete technically. The second, creative inspiration; how they compete creatively.
When we analyze the design of competitors websites we can gather several popular trends that stand out across the board. Technical factors include; design services, inspiration resources, shop by room and/or style options, visible search engine bar, accessible warranty information.
In order to make a visually successful design for Maynooth, we need to gather creative trends from competitors website. Creative trends include; strong hero box, category section, highlighted promotional offer, shop instagram.
Once I have accumulated enough information I can begin to concentrate on Maynooth's vision, persona and compelling approach to deliver quality service through my designs. I start this process by sketching a variety of homepage designs. You will see how I used the findings of the competitive audit as inspiration of the homepage layout to optimize the companies strongest selling points, which will then be put through the digital process on Sketch to create a rendered, digitalized, lo fidelity version to be prepared for the user testing process.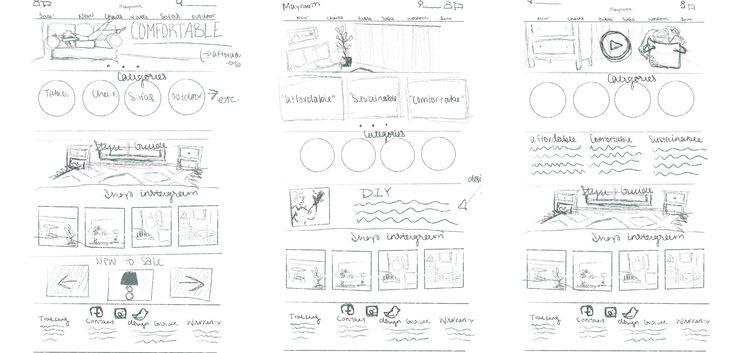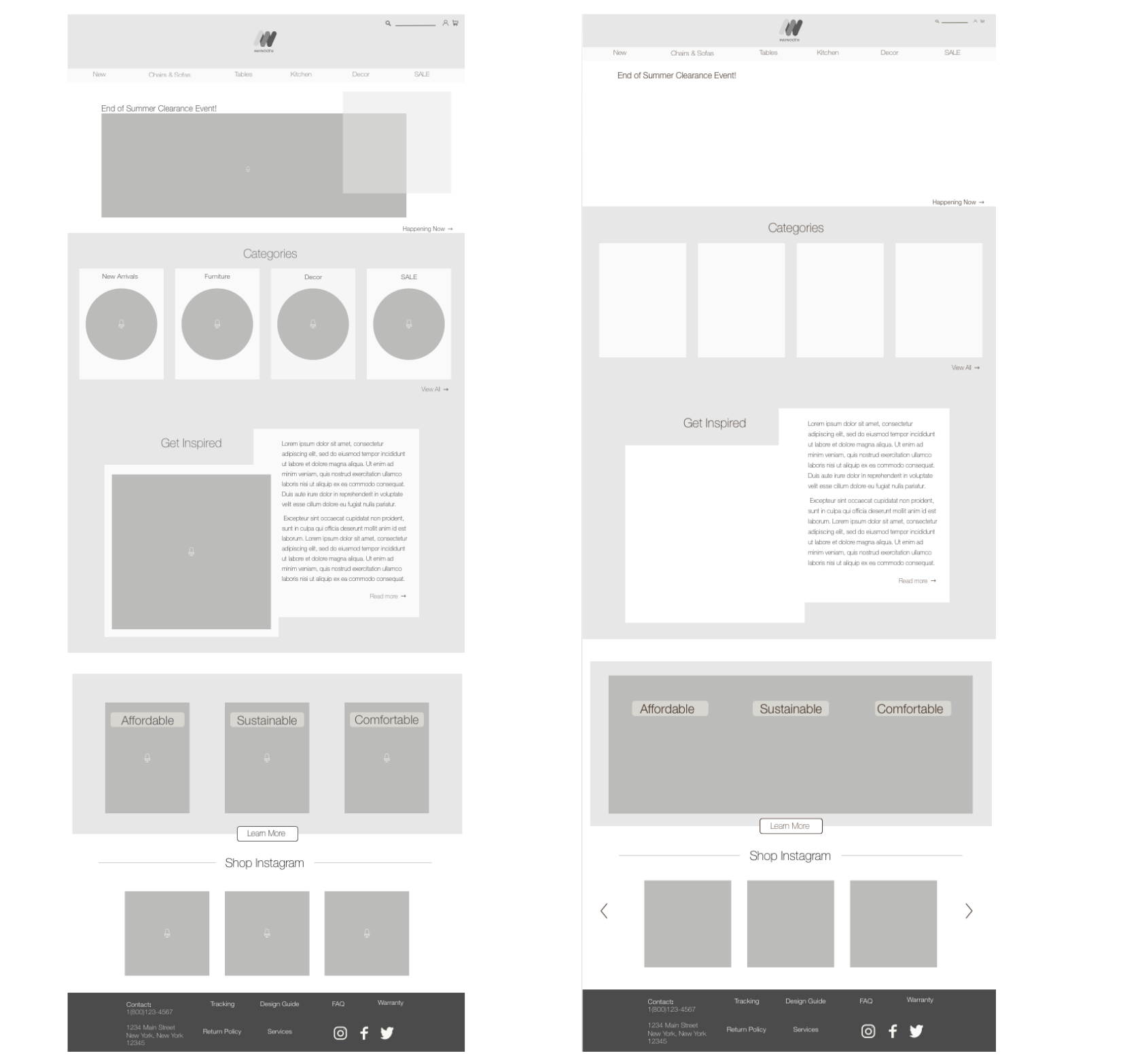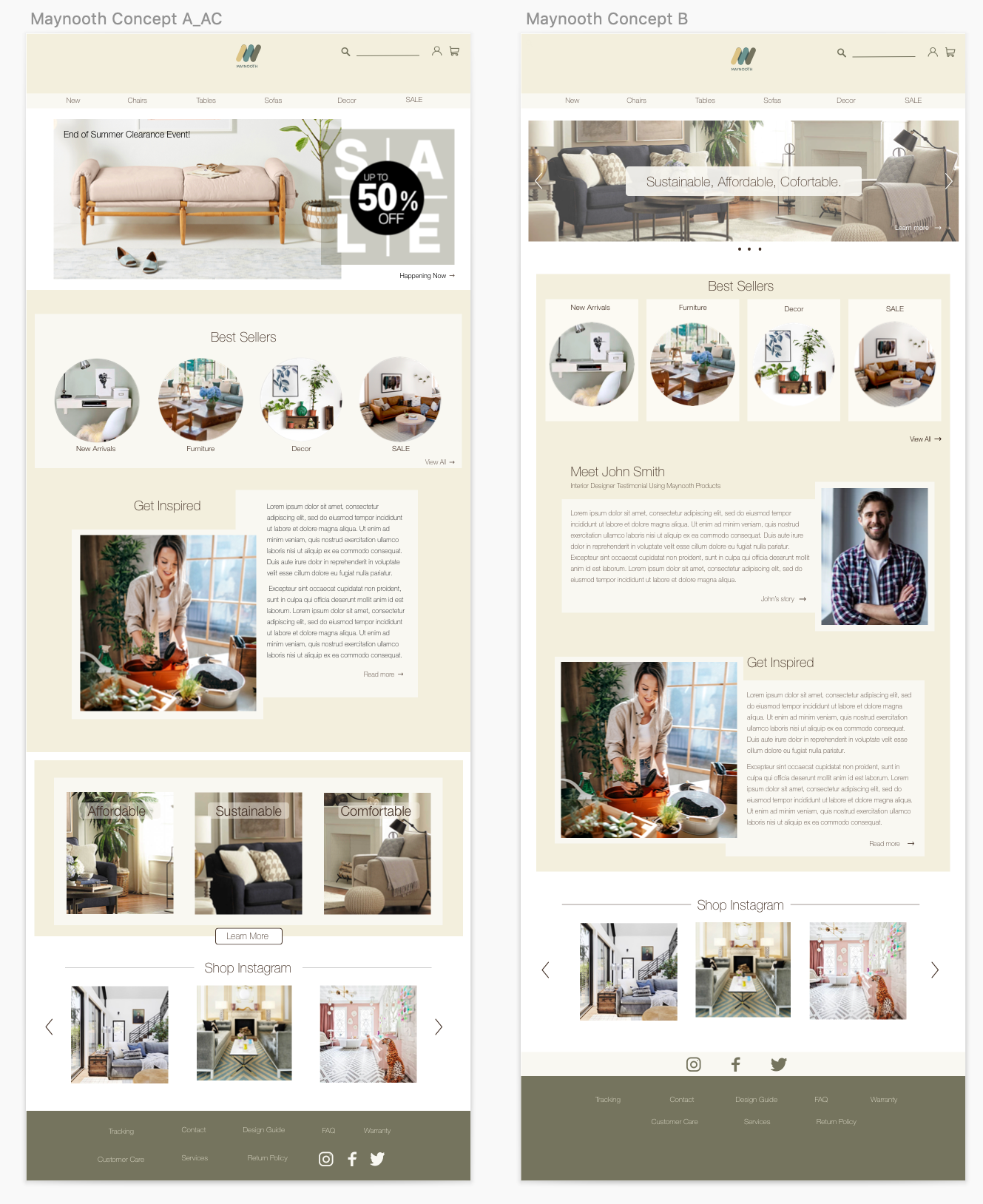 After the hi-fidelity wireframes were created, I was able to prepare the prototype to be tested with users.
In this user test, I moderated five candidates that matched our target audience persona as they explored and answered questions about their experience with the Maynooth homepage.
Most users preferred concept A over concept B.
Most users wanted to see easy to find contact information in the footer.
All users were intrigued by the sale advertisement in the hero.
Most users said they would like to see visual CTA's for categories instead of best sellers.
Most users expressed that categories could be better organized (i.e. "chairs" and "sofas" should be listed as one).
Most users said that they would like to see easy to find contact information.